5 Days To TolkienMoot XIII. RSVP Today!
Tolkien Moot XIII begins in just a few days! 7:30 am, July 15th, 2017! Only a few seats left, so hurry and RSVP. Hosted by the Eä Tolkien Society, an official Smial of the U.K. Tolkien Society, providing Tolkien-inspired role-playing games, board games, video games, scholarly discussion, and appealing to many other enthusiasts. RSVPs will close soon. RSVP now, so you don't miss out this year!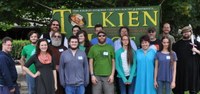 Location: Spokane, Washington - Details.
Schedule: July 15th, 2017,  7:30 am to 10:00 pm - Details.
Special Guests/Events:
Price: Free Admission, but you MUST RSVP, and it is Potluck for food, beverages (non-alcoholic), and snacks.
Theme: Mordor - Details.
RPG Campaign: Rescue in Mordor & Mordor Awakens, T.A. 2951 - Details.
RSVP: By invitation only. Didn't get your invitation? Email: tolkienmoot at gmail dot com to request one. Or text (USA): (509) 481-5437.
RPG Game Systems Offered This Year:
The One Ring Role-Playing Game

Adventures in Middle-earth RPG

Ea d20 3.x (D&D 3.5)

Ea d20 1.x (AD&D 1st ed.) or Rolemaster/MERP 2nd Ed. hybrid (depending on demand)
Other games: Multiple Tolkien-inspired board games, computer and console games, and more!