TolkienMoot XVIII Schedule Adjustment, Special Guest Speaker Announcement: Signum University Teacher Brenton Dickieson, New Dedicated Location, and RSVP Form Now Enabled
The 18th annual TolkienMoot convention is taking place July 30th and 31st, 2022, and the RSVP is now open. There is limited seating available for the tabletop role-playing game sessions. This will also take place for the first time at the new Role-Playing Game Community Center (RPG Center) at 101 North Stone Street, Spokane, Washington 99202.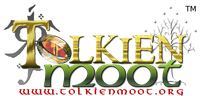 TolkienMoot Logo
RSVP Today! https://tolkienmoot.org/rsvp
WHAT TolkienMoot XVIII, all Tolkien-related gaming, fandom, and scholarly discussion with the Ea Tolkien Society members, guest speakers, and guest game masters, running multiple Tolkien-based game systems.  www.tolkienmoot.org
WHEN: Saturday July 30th from 8:00 am to 10:00 pm and Sunday July 31st from 12:00 pm to 7:30 pm. TolkienMoot Schedule
HOW: Mostly in-person, but some limited live-streaming or remote participation options.
WHERE: The brand new Role-Playing Game Community Center by the 501(c)3 non-profit charity, RPG Research, at 101 North Stone Street, Spokane, Washington, 99202 www.rpgcc.org - This will be the first year at the RPG Center, and we are planning for all future Ea Tolkien Society meetings and TolkienMoot Convents to take place at this location going forward.
WHO: Tolkien fans, scholars, and gamers. Ea Tolkien Society. Guest speaker announcements coming soon. See here List of Previous TolkienMoot Guest Speakers.
Special Guest(s): Signum University teacher Brenton Dickieson. https://apilgriminnarnia.com/2022/05/31/lotr-speech-act/ (confirmed), David Russel Mosley (tentative).
HOW MUCH: Free, but limited seating. Food is pot luck. Please consider donating to the 501(c)3 non-profit RPG Research, who is providing the facilities for us to use free of charge, at considerable expense for them (electricity, air conditioning, insurance, etc.).
Food: Pot luck. There will be a potluck list that everyone who RSVPs in-person can contribute to.
MORE DETAILED INFORMATION