Tolkien Moot XI Begins July 17th, Hurry & RSVP
We are now just a few days away from Tolkien Moot XI. Still much to do on our end as we prepare everything. We have a lot of folks that have verbally committed to attending (and have followed through with completing the RSVP form), and some that we hadn't spoken with previously that have RSVP'd, please hurry and complete the online RSVP form today!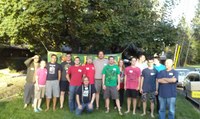 Please, if you are hoping to attend, complete the RSVP ASAP.
Tolkien Moot is an annual (free) convention by and for fans of J.R.R. Tolkien and his works, sponsored by the Eä Tolkien Society, an official Smial of the U.K. Tolkien Society.
Here are some highlights about this year's upcoming Moot:
This year's theme is: Giants!
Special Guests: Published Tolkien Author: Michael Martinez, The Ea Tolkien Society, Members of Zombie Orpheus Entertainment & Two Bards: Scott C. Brown and Andy Dopieralski, The Wagnerian Society, Raw Hobbit, Middle-earth Talk Show, Tolkien panels, and more!
Games: Role-playing games set in Middle-earth (many different RPG systems), console video games set in Middle-earth, PC games in Middle-earth, board games in Middle-earth, live-action events, and more!
Schedule information: http://tolkienmoot.org/schedule - July 17th, 18th, & 19th.
Location Information: http://tolkienmoot.org/location - Spokane, Washington, USA and some events simulcast online via http://www.youtube.com/tolkienscholars
The RSVP form allows gradients of participation commitment levels (wishful, tentative, fairly firm, committed). So if you are not certain you can attend, you can let us know that.
If you are only planning to attend the online broadcasts, then RSVP is not required, but it is nice to let us know.
If you are hoping to attend the panel discussions, Ea Tolkien Society meeting broadcast, or gaming sessions, in-person, we need you to RSVP right away so we can have everything ready for you.
Often many people wait 1-2 weeks to RSVP, and we do the best to accommodate such last minute changes, but it really helps if you can complete the form several weeks out at least.
The site is now running on new servers and undergoing a lot of updates. The RSVP form is updated as well.
If you have any trouble with the form, you can email directly: tolkienmoot at gmail dot com or call Hawke on his cell phone (USA) (509) 481-5437 (text his phone is okay too), and we can register you manually if necessary.
We look forward to a great participation level this year, so don't procrastinate with the RSVP.
See you all soon, both on-line and off-line.
Namarie!
NOTE: We did just overhaul our servers, so if you have any trouble with the RSVP form not working, please email tolkienmoot at gmail dot com or call/text Hawke: (509) 481-5437 so you do not miss out due to any technical issues.