Tolkien Moot Is Now Over
Many thanks to everyone that helped and attended. Photos, videos, campaign resources, and more are now being uploaded for your enjoyment.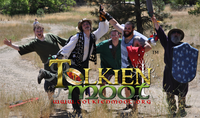 Tolkien Moot XI LARP Session & TolkienMoot Farewell Photo
Check back here and on the main website, http://www.tolkienmoot.org for the various uploads.
I will be updating this news item with links to each category of goods uploaded.
When the link becomes functional (may need to hit reload/refresh in your browser), then it is available:
TolkienMoot XI Opening Ceremony Video
TolkienMoot XI Ea Tolkien Society Meeting & Broadcast video
TolkienMoot XI Panel with Michael Martinez, Scott C. Brown, & Andy Doperalski video
TolkienMoot XI Middle-earth Talk Show & Closing Ceremonies video
Campaign "A Giant Problem - Giants of the Ettenmoors and Beyond" Maps
Campaign PDF
Special compilation video of TolkienMoot XI
Special compilation video of all moots combined
Special compilation video of LARP sessions at TolkienMoot XI
NOTE: At this point, 2015 is the last full Tolkien Moot mostly all created, setup, and run by Hawke. If you want to see another Tolkien Moot, then volunteers will need to make it happen 100%. The website, technology, and similar features will still be gladly provided. The legal documents and other years of development are also available. So, if there is to be another Tolkien Moot, complete the Volunteers section. you will need someone to step up as leader of the effort. Hawke will gladly advise and guide, but can no longer be the sole energy to keep it going any longer. Many thanks to all those that have helped to make it possible over the years. There is an email list ( volunteers@tolkienmoot.org ) you can join to help coordinate efforts between volunteers to make it happen, as well as the forum on the website, and the IRC chatroom.
There will still be a much-reduced Ea Tolkien Society annual Tolkien Moot, with web-based scholarly discussion, Internet-based broadcasts, etc, and maybe Hawke will run a single table for a select few players. But for the more expensive (and physically exhausting) moot with many gaming tables, game masters, etc., volunteers will have to make that happen.
Again, many thanks to everyone over the eleven years.
Namarie!