Tolkien Moot XIV begins July 21st - RSVP Today!
Hurry & RSVP! Seating is filling up fast. Tolkien Moot XIII begins July 21st, 2018, doors open at 7:00 am, events begin promptly at 8:00 am! Hosted by the Eä Tolkien Society, an official Smial of the U.K. Tolkien Society, with support from RPG Research. Tolkien Moot provides Tolkien-inspired role-playing games, board games, video games, scholarly discussion, Tolkien-inspired music, art, and appealing to many other enthusiasts. RSVPs will close soon. RSVP now, so you don't miss out this year!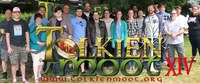 This Year's Theme: The Entwives! Guest Speaker Michael Martinez.
Location
Spokane, Washington - Details
Schedule
July 21st 2018,  7:00 am to 10:00 pm - Details
Cost
Free, but potluck, all guests should bring something from the potluck items list on the RSVP Form.
Free Admission, but you MUST RSVP, and it is Potluck for food, beverages (non-alcoholic), and snacks (all participants should bring something as per the RSVP form). We reserve the right to refuse participation to anyone, though usually just because of limited seating. Though your committed RSVP will reserve a seat, if you are late, we reserve the right to release your seat to anyone on the waiting list that arrives on time.
Special Guests/Events:
Published Tolkien Scholar & Essayist, Michael Martinez -

Details

.
The Eä Tolkien Society (an official Smial of the U.K. Tolkien Society) -

Details

.
The RPG Trailer & RPG Bus - Details.
Convention Shared RPG Campaign
Working Title: "Don't Be Hasty!"
While we offer many tables with different game systems set in Middle-earth, all off the Game Masters will be running the same original, created just for Tolkien Moot, campaign module.
RSVP: Use this form to RSVP. If you have trouble with the form, then email tolkienmoot at gmail dot com or text/call  Hawke (USA): (509) 481-5437.
More Information
Possible RPG Game Systems Offered This Year:
The One Ring Role-Playing Game(confirmed)

Adventures in Middle-earth RPG (confirmed)

Ea d20 3.x (D&D 3.5) (pending GM confirmation)

Ea d20 1.x (AD&D 1st ed.) (pending GM confirmation)

Rolemaster/MERP 2nd Ed. hybrid (depending on demand) (pending GM confirmation)

Other Possble Games (board, card, video, AR, VR, etc.)
Updated list coming soon, (we offer all of the above)
Help Volunteer Today!
Want to help us increase our capacity, RSVP as a Game Master, we'll get you on the GM discussion list, and provide you with the shared campaign module.
Want to Join as a Game Master or Other Volunteer?
Contact Us
Questions? Comments? Suggestions?
Website: www.tolkienmoot.org or www.tolkienschlars.org
Email: tolkienmoot at gmail dot com.
Text/Phone Hawke: (509) 481-5437
Twitter: @tolkienmoot or @tolkienscholars
Youtube Stream: https://www.youtube.com/tolkienscholars (Thanks to Ea Tolkien Society)
Twitch Stream: https://www.twitch.tv/rpgresearch (Thanks to RPG Research)
We look forward to seeing you at the 14th annual Tolkien Moot.
Namarie!